Recently, our group has been investigating the concept of a "time-reversed laser".
A laser is an optical system that supports purely-outgoing radiation patterns. Above the lasing threshold, it is inherently non-linear (click here for our research on nonlinearity in random lasers). However, a laser at threshold can be described using a simple linear wave equation, with an amplifying refractive index (i.e. complex, with a negative imaginary part).
We refer to the time-reversed counterpart of a laser as a coherent perfect absorber (CPA). This is an optical system that supports a purely incoming radiation pattern—the time-reverse of the lasing mode—with complete absorption and zero reflection (see Fig. 1 and Fig. 2).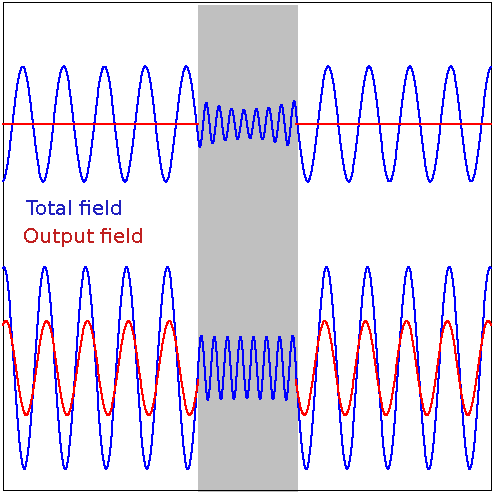 Coherent perfect absorption arises from the interplay of interference and absorption. In the presence of specific amounts of dissipation, there exist interference patterns that trap the incident radiation for an infinite time. However, just like laser radiation, coherent perfect absorption only occurs within narrow frequency bands.
A CPA must satisfy certain conditions: for a given frequency and geometry, it must contain a specific degree of material dissipation—exactly as much dissipation as a corresponding laser has amplification. However, we have shown that it is not terribly difficult to satisfy these conditions. One approach is to make use of an indirect bandgap semiconductor, where the dissipation varies smoothly as a function of frequency, and we can simply scan for a frequency where the dissipation is just what we need. Furthermore, the dissipation does not need to be very high; even small rates of single-pass absorption can lead to perfect absorption. The CPA is a novel interferometric optical element which allows controlled delivery of energy to the device by modulating the phases of the input signals.
Our original theoretical paper on the subject was published in Physical Review Letters. See also the Physics Viewpoint article by Stefano Longhi.
Recently, we have worked with the Cao group on an experimental demonstration of the "two-port" CPA effect, using a simple silicon wafer as the absorber. The results have been published in Science.